The Xbox Dashboard has come a long way since it's release in 2005 and here's a look back through each updated Dash from then up to today.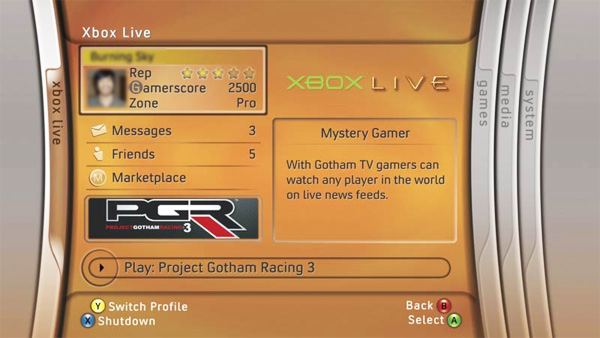 I received my first Xbox 360 way back in 2007 from my wife for Christmas and I was thrilled.The dashboard back then wasn't really something to be excited about though, it had everything you expect from a basic UI, you could read your messages, add your friends, create accounts, and even stream media from your PC, but appearance wise it wasn't great. You were limited to a number of themes and colours and some games came with a dashboard skin as an added bonus. In terms of avatars it was quite different from our custom little character we have now, you had a vast selection of characters from pandas to huge yellow smiley faces, and again more were added if you had a game with avatar pictures included.
In 2008 came the new dashboard along with the new personalised Avatar and some swish looking tile panels showing different features for each subject on the dash. This is where the Xbox experience really kicks off with the introduction of Inside Xbox, a sort of news channel featuring reviews and news by the Inside Xbox team.
The new Avatar system was in my opinion Xbox's way of stepping up to the Wii with their Wii Miis and they certainly stepped up. You can personalise most of your facial features, hair, eyes, and accessories, and unlike the Wii Mii you have a choice of clothing for your Avatar along with a huge Marketplace full of accessories and clothing.


In 2010 came the "Xbox Experience". Keeping with the tile panels but with a new "fresh" theme, not the boring old green but now the tiles are bright, white and each one features the Xbox green swish.
This update didn't, from what I can remember, include a lot just a cleaner look and feel as well as the Avatar being displayed a little more prominently. TV Streaming was also added, but only if you had a Sky subscription.


Last but not least, earlier this year the new dashboard came along. There's now a completely new UI along with a bunch of "apps". These apps are mainly TV  streaming apps, along with Facebook, Twitter and YouTube.
Personally I think the new UI is just one big advertisement. The information you actually want, like, what game is currently in, is displayed in one of the smaller squares in the top left. the rest of the boxes are full of featured apps, whats new in the market, whats new in apps, what games you played last, Sky, Netflix, apps, Xbox Live offers, and more apps.
Bing was also big news, all though, I've never used it, because you can't use it to search the web like you think, it actually searches through all of the apps, and videos for rent, and more apps.
The new user interface has completely taken away the personal feel from the Xbox Dashboard and feels like one giant billboard in your front room (or bedroom) and I'd happily go back to 2005 when the dashboard was simpler.