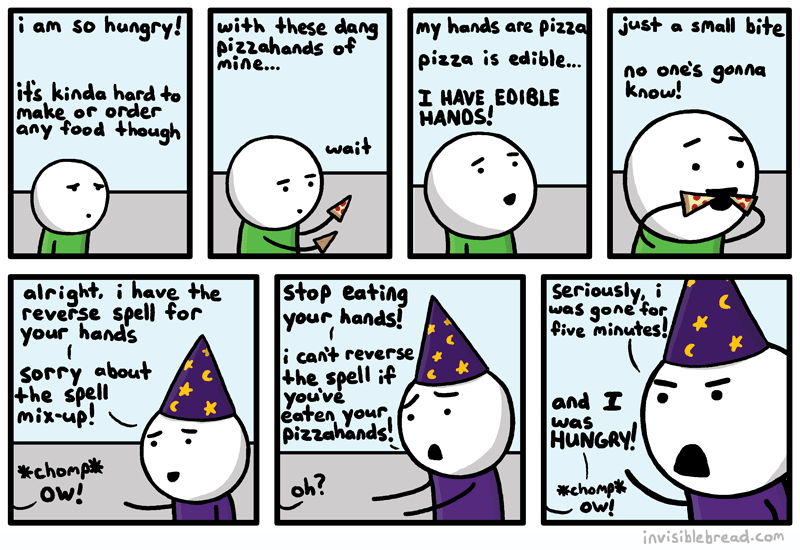 Here's the first post of something I hope becomes a regular thing. I'm a big fan of digital art, street art, web comics, and illustrations so I'm going to be featuring some of my favourites here every so often.
This is Invisible Bread, by Justin Boyd. I first found Justins illustrations when I subscribed to Left Handed Toons, and when I found out that he'd started his own web comic, I was straight over there to subscribe and since mid 2011 I've been reading Invisible Bread comics and cracking up ever since.
Justins witty take on some of his slightly exaggerated life experiences are just brilliant, and that's why Invisible Bread is one of my "Featured Artists".
The Interview:
Where do you get the inspiration for Invisible Bread? Is it mostly personal experiences or are they made up?
The inspiration comes from my incredibly random thoughts.  It can be a simple noun like "phone" that can spawn a totally random comic like this one here: http://invisiblebread.com/2012/03/phones/.  If the comic involves some kind of social situation, I can almost guarantee that I've experienced it at some point in my life.
Why did you decide to call your own comic Invisible Bread?
I wanted to have a name that didn't mean anything, but was memorable and fun and I think Invisible Bread is the perfect name for that.  It came to me as I was doing a random Google search when I misinterpreted some of the search results and read some words as "invisible bread".  I instantly loved the name and stuck with it.
Would you consider your web comic ventures your career or are you still in employment?
I still have a normal job where I program stuff for an internet company.  I really love doing comics and it would be awesome if I could do it full time, but that time is not here yet.
How difficult have you found gaining popularity in this vast online world?
It's definitely difficult to become popular on the internet given how much is out there, but it's not impossible.  Just gotta stick to it and work hard and most importantly, love what you do.  Popularity doesn't mean a thing really if you don't like doing it =)
Finally some questions I'll be asking everyone..
What's your favourite gadget?
I gotta be lame and say "my phone".  It seems like everyday there's a new thing it can do.
What's your favourite website?
Google Analytics =)  I'm a stats fiend and I love to break down traffic numbers and so on all the time.  I'm on that site more often than I should be.
iPhone, Android, BlackBerry or non smartphone user?
Got myself an EVO 4G (android).  Two years old and I still think it's fantastic.
Are you a console gamer? (if yes) What console? & What's your game of choice?
I'd say I'm more of a PC gamer than console.  My game of choice genre-wise is an action RPG type game, like Fallout 3.  Building stats and killin' stuff.  I like that kind of game =)
Check out Justins web comic's here.