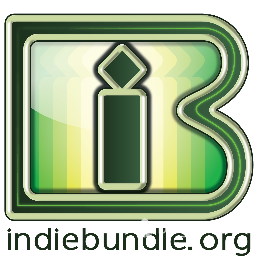 I like bundles. For me there is usually no better way to pick up games that I want for cheap, along with the added bonus of getting games I may very well have never heard of before. Bundles are sometimes just cheap ways of getting games you already know about, or they can be more like buying a mystery bag of things no one has heard of that may or may not be good (which I always find more fun, being that they rarely cost more than five or ten pounds). IndieBundle.org is a site that allows indie developers to come together and sell games in the form of bundles on their site, so for consumers it it, quite simply, a website where you can find a bunch of indie game bundles.
I got a copy of one of the bundles to see just how good the games featured in these bundles are, and in this case it was very much a mixed bag. For this particular bundle you get 3 games for $5, or for $7 you get those three games plus a pair of alpha versions of games. The bundle in question is the Rugged Rogues Bundle (which is still available at the time of writing), the theme of the bundle being roguelikes.
Now when going through these games I found there was one traditional roguelike named "Tales of Maj'Eyal" with a reasonable amount of depth, a good deal of crunch to it and a nice art style, which I think would certainly satisfy any rogues of the nostalgic persuasion. Next was "Man In A Maze", a new spin on the roguelike idea with the theme of a game show, however because of the lack of brutality and many roguelike elements, it didn't really feel like a roguelike to me. Next we have "Voyage to Farland", a game with fairly poor fidelity but reasonably interesting gameplay, which showed some promise but was largely uninteresting in my opinion. Then we move onto the pair of games which are in alpha. I found "Obludia" to be relatively entertaining, a real permadeath roguelike in the style of the Binding of Isaac, and the other, "Dungeon Prospector", to be a simple infinite dungeon crawl, moderately entertaining if you want to waste a few hours but ultimately quite dull and repetitive, not to mention fairly confusing maps. These last two are, of course, still in alpha and so cannot be fully judged yet.
As you can see the bundles are a mixed bag. For a fiver I would say the bundle is worth it for the first two titles, even if you don't play the third. $7 seems fine as the last two games show potential, whether that pays off however, only readers with access to time travel will know. But in all, in this case at least, I found the bundle to be a little hit or miss, but fairly priced for what you get. I also think it's a pretty decent price to put down for a bunch of games I had never even heard of before. Considering the whole package is priced less than the one ticket to the cinema, I have gotten more out of this bundle than 2 hours of film and most of the games have been fairly enjoyable.
I would recommend you check out the site, give each game about half an hour (you may find yourself liking the games more than you expect after some time playing), and see if any of the bundles catch your fancy. Most of the games are available on Desura, however some are available for Steam download and a good few which aren't are on steam greenlight.
This is one of the sites you may want to keep bookmarked, if you like indie games, this is a good place to find fairly priced bundles of games you probably won't have tried before. Find the website HERE.
If you're looking to grab the rogues bundle but aren't too sure? Then you're in luck as we're giving away an exclusive code for the Rugged Rogues bundle! To enter all you have to do is leave a comment below letting us know which game intrigues you the most, but make sure you use a real email address as we'll be emailing the winner some time next week!