Another week, another suite of Super Smash Bros. tournaments. Interestingly enough, this is a week with a small amount of large events, with instead one killer tournament; but we'll get to that. Here is your guide to know what you should tune in to. This is Smash Tour.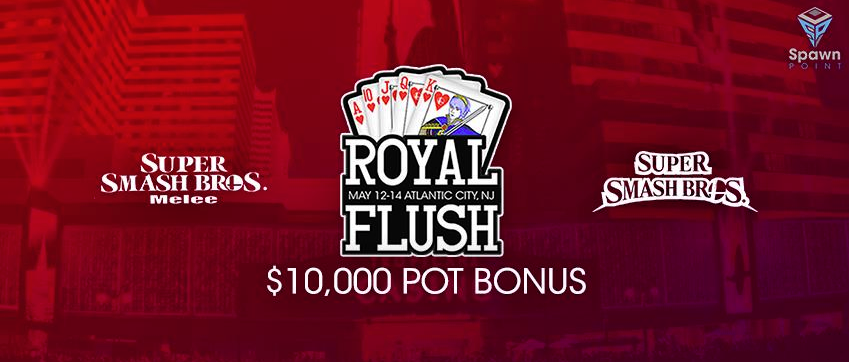 What: Royal Flush ~ Super Smash Bros. Melee Singles and Doubles, Super Smash Bros. for Wii U Singles and Doubles.
Where: Tropicana Casino, Atlantic City, New Jersey
When: Friday-Sunday, May 12-14.
Who: Armada, Hungrybox, Mang0, Leffen, ZeRo, Ally, Nairo.
Why: Look at that attendee list. Everyone is here! Nearly every top Melee and Smash Wii U player is here, which is truly impressive for the first installment of this series, taking place inside of a resort casino. Not only is this a neat theme to an event, but this should be one for the books as it will likely be the biggest event this year since Genesis, and kickstart the crazy Summer tournament season.
Melee Stream: twitch.tv/vgbootcamp
Wii U Stream: twitch.tv/smashstudios

What: The Dawg Pound 2 ~ Super Smash Bros. Melee Singles and Doubles
Where: University of Washington, Seattle, Washington
When: Saturday, May 13
Who: Bladewise, Ka-Master, Eggz, eBay
Why: The sequel to the event which helped build up UW Smash in the region, The Dawg Pound 2 will be a large Melee event in the Pacific Northwest. With Silent Wolf taking a break from the game, Bladewise has had a dominating streak lately, going largely uncontested even from out of region players. Will this be the next win on his list?
Stream: hitbox.tv/EastSideSmash
What: Bourbon State Gaming: Barrel Roll ~ Super Smash Bros Bros. Wii U Singles and Doubles, Super Smash Bros. Melee Singles and Doubles, Hearthstone
Where: Bourbon State Gaming, Louisville, Kentucky
When: Saturday, May 13
Who: DarkShad, Kels, JJROCKETS, Xiivi, CptPuff
Why: A Smash tournament held out of a gaming center, with a side of Hearthstone and a full kitchen? Sounds like a good time for attendees, and with some nice Midwest players in attendance, it should be a good time for viewers as well.
Stream: twitch.tv/bourbonstategaming
As I mentioned, this week is relatively small in events (which is hilarious that I happened to start this column right now) though it is headlined with the outstanding Royal Flush. This event will kick off the escalation of tournaments this summer season, so be excited for that.