If you're on the fence about buying a Nintendo Switch, here's the deal: it's $200 cheaper than the latest Xbox. It exclusively has some of this year's best games, including Breath of the Wild and Mario Odyssey. You can experience those games anywhere thanks to it's portability, and if you're not on the go and just want something to plug into your TV? The Switch is just as happy as a home media center with plenty of timesink-worthy games, and apps like Hulu for accessing your favorite shows and movies. 
… and can you play your PS4 on the toilet? Not without a complex series of mirrors, eagle eyes. Let's not kid ourselves, this is a selling point we've all considered – and perhaps it's why the Switch is Nintendo's fastest selling console, ever. 
So, we know it's good, that's established. However, as with any new system, the specifics can get intimidating when sorting out your holiday budget. Games, peripherals, and add-ons are all worth some thought, so here's a little primer on what is officially 'worth it', what you should invest in, and what you might want to generally avoid while shopping. 
Games – Must Have Titles
The classics are classic for a reason, and this year Nintendo pulled out all stops to bring new hype to old legacies. Zelda, Mario, and Sonic (Mania) have formed a sort of holy trinity on the Switch. All three are masterpieces that deserve a space on any gamer's shelf. Whether you're getting the system for yourself or a lucky loved one, make sure to pick up at least one of the following. 
The Legend of Zelda: Breath of the Wild – n3 Review
Don't deny yourself the experience of playing this year's best video game, at least according to almost literally everyone. The game is a reason in and of itself to buy the Switch.  As much as it deserves praise, we've heard it ad nauseum, so trying to sell its greatness at this point is kind of moot… but if you don't feel a little out of touch for not having played the greatest adventure title of the modern era, you probably should. But it's okay, now's the perfect time to start your adventure. The DLC is coming out this month, so Breath of the Wild is about to get it's second wind.
Super Mario Odyssey – n3 Review
When a single company produces two of the top contenders for Game of the Year, you know someone's doing their job right. But which game is better?
Comparing Super Mario Odyssey to Breath of the Wild is like pitting your loved ones against each other – it's difficult to say which is "best" when both games are so good in their own ways. Separate from one another, both games justify owning a Switch. If you can buy both, get both.
However, if you're forced to pick one over the other, consider the following: Mario is a little bit easier to jump in and out of. The controls are familiar, and it's brighter themes might be better for younger players. And really, it's just a different style of adventure, so sometimes you have to just follow your gut. In the end, it might just boil down to your gaming tastes – but no matter what they are, Odyssey will satisfy them.
Sonic Mania – n3 Review
At $20 on Nintendo's eShop, Sonic Mania is the best bang for your buck on the Switch. Ignore Sonic Forces – actually, just ignore every 3D Sonic, if you'd like. Mania is an oldschool Sonic game for fans, by fans. Most importantly, it embodies everything good about the Switch's inherent design. In handhold mode or connected to your TV, the game runs beautifully and feels like a perfect fit for a system meant to be taken on the go. It's simple, but challenging – accessible, and yet deeply detailed in regards to level design. Sure, you can get it on other systems, but something about owning it on the Switch just feel right. It's like playing Game Gear all over again… but with a tolerable battery life.
Games – Recommendations, By Genre
The previous three titles are the best on the Switch, period. However, if you're in the market for something a little more genre specific, the Switch has you covered. We've pretty much gone over the best adventure and platformer titles above, but the Switch also shines in a few other categories: Action, Shooter, RPG, Fighting, and Party Games. This list is by no means exhaustive, but instead aims to provide a little guidance on the best reviewed games on the Switch, based on genre, as of this holiday season.
BEST ACTION: Fire Emblem Warriors – n3 Review
Nintendo's flagship strategy series breaks the mold by pairing up with Dynasty Warriors, mixing map-based tactics with good old-fashioned hack-n-slash brawls. Fans of the WiiU's Hyrule Warriors will enjoy similarly dramatic combat and sprawling, objective-littered battlefields. Fire Emblem loyalists won't be disappointed either, with a satisfying character Support system and History Mode that truly does the source material justice. DLC maps and characters are scheduled for the coming year, so those who enjoy a decent grind can look forward to meeting familiar faces in all new places.
Other genre highlights: Super Bomberman R, Minecraft: Nintendo Switch Edition
SHOOTER: Splatoon 2 – n3 Review
Another Nintendo exclusive, Splatoon 2 takes everything about the first installment and simply adds more to the mix. With updated online services coming down the pipe, players can expect a decent competitive scene sprouting up in the coming months, though local multiplayer already makes for one of the best team based-experiences on the Switch. You're a kid, you're a squid.  What else is there to say?
Other genre highlights: DOOM, Wolfenstein II: The New Colossus
FIGHTER: Pokken Tournament DX – n3 Review
Pokken Tournament is our first taste of Pokemon on Nintendo's newest system, and a great sign of things to come for the series. The roster, though small compared to the main Pokedex, has a decent balance of "just right" and "super weird" – like any good fighting game, really. Having watched live tournaments of Pokken, the game gets pretty hype. And yeah, yeah we know: it's no Smash Bros, but Pokken is it's own beast that deserves a little love from anyone interested in kicking Charizard's teeth in.
Other genre highlights: ARMS, Ultra Street Fighter II: The Final Challengers
RPG: Xenoblade Chronicles 2 – review roundup
Xenoblade Chronicles 2 is the Switch's first big foray into traditional JRPG territory. It tops my recommendations on the sheer virtue of being a system exclusive, though it's incredibly expansive world is enough to earn it's place next to classics like Final Fantasy and Dragon Warrior. And considering how much they rely on established titles, there's something to be said about Nintendo's faith in new IPs – especially in a genre that tends to thrive on other systems.
Other genre highlights: Stardew Valley, Disgaea 5 Complete
PARTY GAME: Mario Kart 8 Deluxe – n3 Review
Come on, it's Mario Kart. Insert your own blue shell joke here. I don't wanna say it's the same-old game, but if it ain't broke, don't fix it. With a few controllers and some drunk friends, it might just be the most fun you get out of your Switch.
Other genre highlights: Snipperclips, 1-2-Switch
Accessory Recommendations
The Switch tends to move about more than your usual console. Where your Xbox or PS4 might never leave it's place on the shelf, the Switch is always ready to go where you need it. Knowing this, the market is full of accessories for protecting and enhancing the console's overall experience, so here's some advice about what you might want to splurge on.
Invest in a Micro SD Card [amazon_textlink asin='B073JYC4XM' text='@ Amazon' template='ProductLink' store='n3rdabl3-21′ marketplace='UK' link_id='24896f23-de61-11e7-8f15-3bae79742f51′]
It's shockingly easy to  fill up the Switch's 30 gigabytes of system space. Luckily, the console supports expandable storage – theoretically, up to two terabytes – but a solid 128GB should keep you covered for the coming year.  Keep in mind, it's more than just games that fill up space. Many titles come with added content like language packs, which can add extra gigabytes of audio data to your system. We also live in a DLC-riddled world, so don't be shocked if that card gets filled up quick. 
Do not – I repeat, do NOT – worry about buying the officially licensed Nintendo MicroSD cards. The markup is ridiculous. Though I generally advise against buying third party electronic parts for the Switch (more on why below), the officially licensed 64GB and 128GB cards are both made by SanDisk, which have generic but identical versions that can be purchased for a fraction of the price.
Use protection. Buy a dock sock. (Best found on Etsy)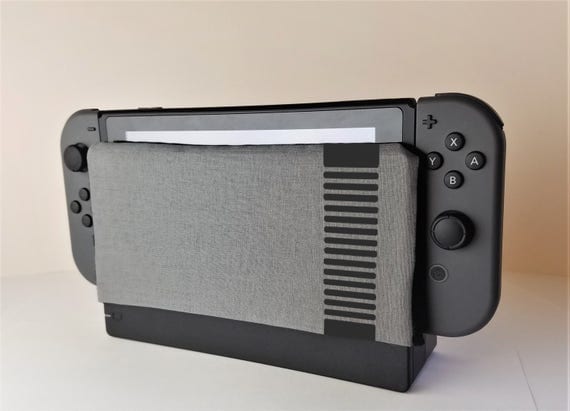 Or, a cloth slip-sleeve you place over your Nintendo Switch dock to prevent scratches on the system's screen. While this isn't something you have to really fret over (the Switch is more durable than it looks), a dock sock is a cheap investment for the peace of mind it provides. Plus, they're the safest, easiest way to give your dock a customized look without venturing into the dangerous realm of stickers and skins – but more on those later.
Think of it like a tea cozy for your system. Ideally, it should be made from microfiber cloth, but it's main utility is simple protection, so almost any soft fabric should work. It's the kind of accessory that makes you wonder why the dock itself doesn't come with some kind of padding to prevent damage.
Invest in a travel case and screen protector [amazon_textlink asin='B01NAUKS62′ text='@ Amazon' template='ProductLink' store='n3rdabl3-21′ marketplace='UK' link_id='594d94b4-de61-11e7-ad1c-0f31d0278942′]
This speaks for itself. If you plan on taking the console with you outside of your home – and it might happen more than you expect – it's well worth shelling out a few bucks for something that'll keep it safe and sound from physical damage. The link above is for Nintendo's officially licensed product, but pretty much anything out there should get the job done. Unlike electronic peripherals, third party products for things like travel cases are generally safe.
Consider the Nintendo Switch Pro Controller [amazon_textlink asin='B01N4ND1T2′ text='@ Amazon' template='ProductLink' store='n3rdabl3-21′ marketplace='UK' link_id='6ed7a6f3-de61-11e7-a064-abff1d5a02fb']
At around $70, the Pro Controller is ten bucks cheaper than an extra set of Joy-Con. It's comfort is lauded as as a natural competitor to the Xbox One controller, and like the competition, it is compatible with PC gaming (yes, you can use a Nintendo controller to play PC games!) You only get one pair of Joy-Con with your Switch, so investing in a second controller is bound to happen if you plan on playing any local multiplayer. Don't necessarily snub the idea of another Joy-Con set though; they're excellently made, just ergonomically different. But if your hands are most comfortable with more traditional controller designs, the Pro Controller is probably for you.
As of now, deals on the Pro Controller range from $5 to $10 and seem to change day by day, so it's worth shopping around online. Just be sure to find the officially licensed Nintendo version. Why? Read on and find out. 
What to Avoid
We all want to save some money here and there, but some things are just not worth skimping on. On top of that, Nintendo is pretty particular about what voids their warranty with the Switch, so if you're the type who likes modifying game systems or slapping skins on controllers, keep the following advice in mind.
Avoid Third Party Electronic Peripherals
Third-party replacement parts – docks, cables, and knock-off controllers – are out there on store shelves, but the Switch is still in its infancy and there are already problems with companies producing faulty equipment – in the sense that it can literally break your system. This problem will likely not exist by the next holiday season, but for the time being it's best to avoid any accessories that are known to cause the game system itself to short out, most importantly, third party docks.
That Nyko Dock is very nicely designed, but the gamble of losing your entire Switch for the benefits it provides are not worth it. An extra Nintendo Switch dock (with connection cords) will run you $89.99 – but when it comes to choosing official hardware or a third-party dock, shelling out that extra forty bucks is better than the grief of dealing with a dead system.
Why do these docks brick the Nintendo Switch? It's not entirely clear, but it's a very easy issue to avoid. If you are concerned for your Switch's well being, stick to Nintendo's officially licensed hardware until more reliable choices enter the market.
If, for whatever reason, you happen to have any out-of-box issues with a component, take the effort to contact Nintendo about the malfunctioning part and they will replace, it free of charge. Their repair process can be found through their official website. Keep in mind that liquid and catastrophic physical damage are typically not covered by Nintendo's warranty, so use these services only if you purchased a defective product.
Skins, Decals, and Modding Kits
I would also advise against looking into modifying your Switch's exterior look, for similar reasons. Unless what you're buying is super-obviously benign – like the aforementioned dock sock – then it's best to wait on fancying up your Switch until companies have more experience with the system. The technology and understanding of the plastics and overall make-up of the Switch are still not completely researched, and have led to customers ruining their systems appearance with damaging skins and decals. 
There are also kits out there that replace the factory-made shell for the Joy-Cons, but remember that modifying your Switch hardware voids its warranty. If you're super good with your hands, go for it – but it's a pain in the ass, and at $40 for a single JoyCon ($70 for the pair), it's not really worth fiddling around with unless you're a passionate (and experienced) hardware customizer.
In conclusion…
Call me cautious, but I think new Switch owners should be perfectly happy with the products provided by Nintendo itself. Everything you get out of the box gets the job done, but with a few investments you'll really be ready for the full Switch experience.  Just be mindful of what extra accessories are useful, and which ones might do more harm than good. 
After the WiiU's quiet tenure, the Switch has roared onto the market like a force of nature. It is Nintendo's best designed, most promising system in ages. I genuinely believe we are at the cusp of a true gaming renaissance, and hopefully if you follow the aforementioned recommendations you can get as much fun out of your new console as I have.